TELL THEM WHAT THEY'VE WON - AMERICA'S FAVORITE GAME SHOW PODCAST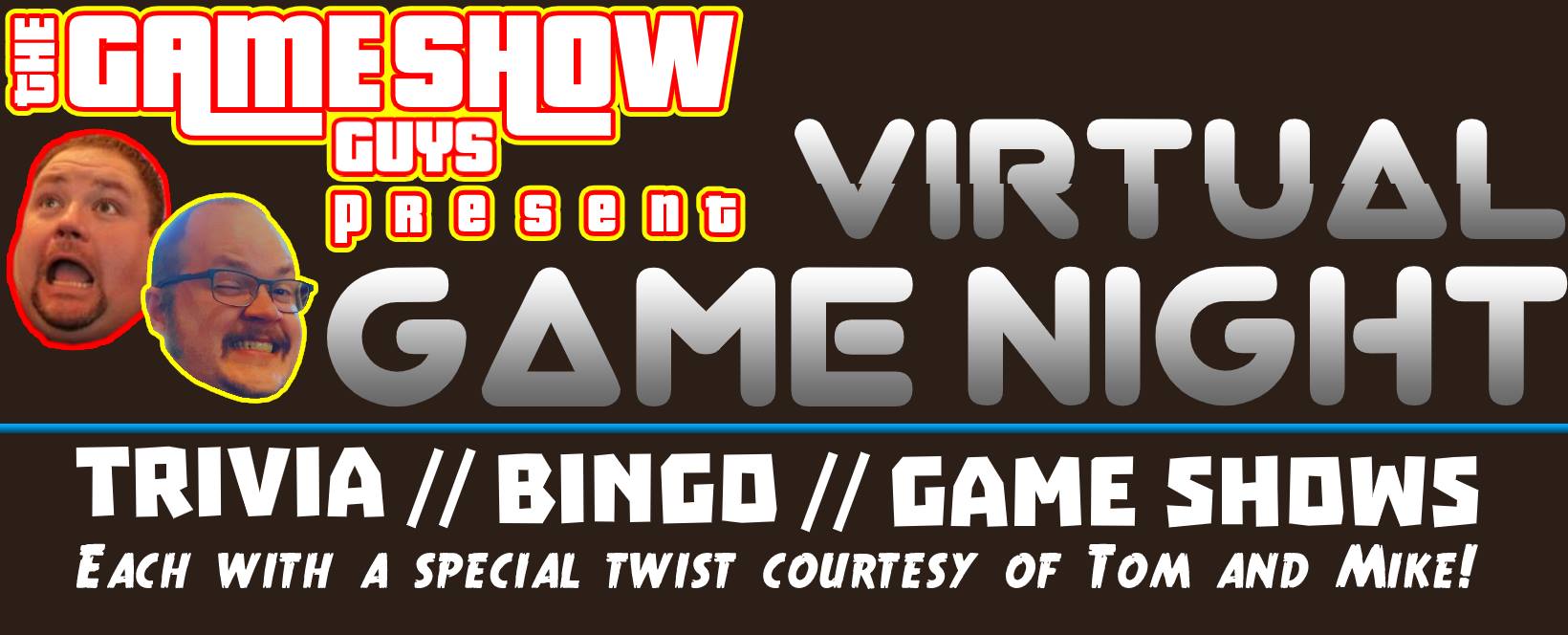 That's right! You can now hire The Game Show Guys for your next corporate or personal virtual event!
---
Games We Host!
Trivia
Good old trivia. Nothing beats getting teams together and going all out to find out who is the brainiest of the bunch. The classic question & answer format, made virtual so you can play from the comfort of your own home! Plus, with all the hijinks of Tom and Mike, you'll never want to go back to boring old pub trivia again!

Bingo
​

What is the biggest problem with Bingo?




It's always the same old boring game...BUT NOT ANYMORE!!!

Welcome to Bingo for the Next Generation.

Let's just say that we do bingo a little bit different.




There are no letters or numbers.




The calls are inexact and open up to your interpretation.




Think movie quotes, song titles, action figures, and recipes.




And the boxes on the cards are all categories, like "World War II" or "Things that are Green."




And the best part? You get to justify how you got your Bingo.

Join The Game Show Guys, Tom Bastek and Mike Jacobs, as they bring you Bingo like you've never seen it before. Wacky, wild, and way more fun than an evening at the retirement home!

The Next Best Thing

A brand new game show in the spirit of Family Feud!

What do you do when you want a pizza, but there's none to be found? What about when you REALLY want to listen to the Beatles, but your records have gone missing? Or what if you wanted to watch The Empire Strikes Back, but your friend still has the DVD you lent them? Well, you reach for the Next Best Thing, of course!

In this wild and wacky game show, contestants try to pick what would be the Next Best Thing when their favorites are unavailable. Will they pick a crowd favorite, or come up with something totally out of left field? There's no wrong answers, but the contestants will have to convince everyone

their

answer is the best! Well…second best… And, unlike most game shows, the contestants are not the only ones to play along - everyone gets to join in the fun!

Kids Quest - Mike's Misplaced Map

Explorer Mike has been all over the planet in search of new cultures, plants and animals. Now that he is ready to come home, he cannot find his map. Can you help Mike's assistant, Technology Tom, bring Mike home? This educational journey crowd-sources answers to puzzles, games and trivia in real time to complete tasks and complete the journey. Appropriate for ages 8 and up.
Here's the best part: we can customize every show we do based on your needs! Maybe you have team members in many different time zones. Maybe you would like the categories for trivia to be specialized for your bride and groom. Maybe you have an idea for a whole new game. Just let us know. We are happy to help curate a game designed specifically for your company/group/event.
For More Information:
If you would like to be a contestant and book a show...
Site powered by Weebly. Managed by
Porkbun