TELL THEM WHAT THEY'VE WON - AMERICA'S FAVORITE GAME SHOW PODCAST
America's Favorite Game Show Podcast!

​Join The Game Show Guys, Tom Bastek and Mike Jacobs, as they bring you news, reviews, and fascinating stories about the game shows we all love, both past and present. This podcast will showcase a different game show each week, as well as touch on game show current events, interviews and so much more.
Latest Episodes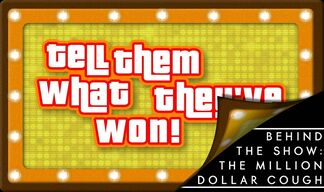 Your Hosts
Tom Bastek & Mike Jacobs
come on down!

Two guys. Trivia. Improv comedy.
​The rest is history.
Partners and Sponsors of the Show

​VO Intro courtesy of Curt Bonnem

"The number-one game show news website in the world."

BuzzerBlog was founded in 2005 and covers the game show entertainment industry, from television to radio, online and everything in between. Their mission is to offer current, in-depth reporting and feature articles pertaining to everything involving game shows. They are proud to sponsor and deliver our news every week!
Site powered by Weebly. Managed by
Porkbun